I am a small Kennel established in 2006. I am now situated at Shell Cove in New South Wales. I originally had 2 Smooth Collies, a boy and girl and my beautiful Miniature Longhaired Dachshunds. We love our dogs and they are all part of the family.
On 22nd July 2008 we had a new arrival to our home, she is a beautiful little Black & Tan mini longhaired Dachshund. Her name is Gabi. She is 10 weeks old and will start her show career in the very near future. Keep an eye out for her.
On 26th December, 2008 another little mini longhaired Dachshund to be named Callie was born. She came to live with us in late May 2009. I had been ill and the breeders Chris & Les Moore kindly offered to keep Callie until I was well enough to take her home. She is the most placid, loving little girl that you could imagine. She is a red shaded girl. Callie has started in the show ring and has also had a try at Earth dog trialling. That was a little different for her, but I am sure that she is looking forward to the next trial. Callie really loves to chase the lure.
In December 2010 a litter of Miniature Longhaired Dachshunds were born at Schlau Kennels in Bringelly. Little was I to know that I would fall in love with one of the puppies. I first saw these puppies at one of their first outings. There was this beautiful Silver Dapple little boy. It was love at first sight. This little fellow was to be kept by the breeder, Sharyn Conneally and Jan Holland, but luckily he had a little brother. It was nearly as if they were identical twins, so Rowley as he is now known was able to come home with me. He is the most placid beautiful boy with a blue fleck in one eye. He is PRA clear so he will never have any sight problems. He is a real clown and loves to give you kisses. Rowley has started his show career with Dog Challenge at the Woodlands Childrens Charity Show at Hillsborough. Hopefully he will have many more wins to come. Rowley has fathered his first litter and the beautiful puppies are now all in their new homes. Daisy went off to Waterloo in Tasmania, Bently went of to Launceston in Tasmania, Hugo has gone to Newcastle and will hopefully be seen in the show ring soon. I have kept Jenna and she too will hopefully be doing some showing. They were all the most beautiful babies.
In August 2012 my girl Nish also became a mum again. Nish had a litter of 7 puppies 3 girls and 4 boys. They were all beautiful puppies with good breeding behind them. The sire was "Howie"Ch Cathkin Howzat. All the puppies have gone to their new families and have settled in really well with all their new found friends. Unfortunately because of my health issues I doubt that I will be breeding Smooth Collies again, but I will always have a spot in my heart for the breed.
I currently have my little Dachies. Life wouldn't be the same without a dog or two in the family.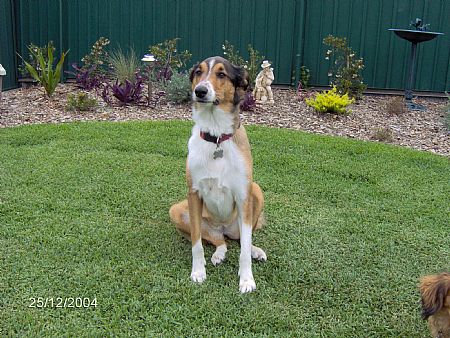 "Millie"